C1D1 Labs Modular Fire Rated Extraction Booths
Item #: C1-ModularBooth-WxLxH

Design meets functionality with the most versatile hydrocarbon and flammable liquid extraction booths on the market. C1D1 Labs modular designs allow for easy install, certification and use. C1D1 Labs extraction booths will save you both time and money following your architects and engineering teams into what we like to call "black holes of engineering". Purchase an ethanol extractor from C1D1 Labs in addition to our room, and also receive a free lab design! Stop wasting your time, get approved, and start making money.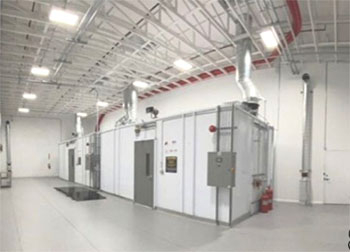 Features

Engineer Peer Review

Modular 18-guague stainless steel panels

Front door: 3'W x 7'8" T, 90-minute fire rating steel construction

1, 2, 3 and 4-hour fire rating available

Class 1 Division 1 LED light fixtures with 7,000 lumens each

Gas detection: Explosion-proof intake and exhaust fans- programmed to purge when LEL is reached

Explosion proof (M2A), connects to alarms

HZEX Class 1 Division 1 emergency exit light

UL listed control panel box, weatherproof for outdoor units

Power requirements: 208-240V, 1~Phase, 35 Amps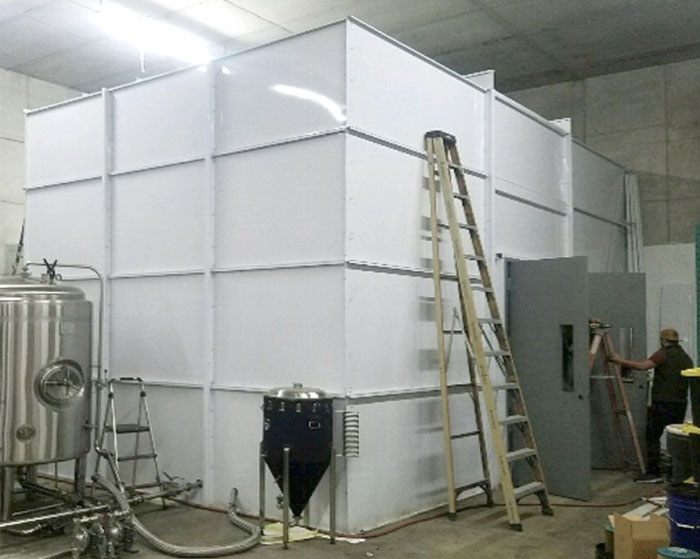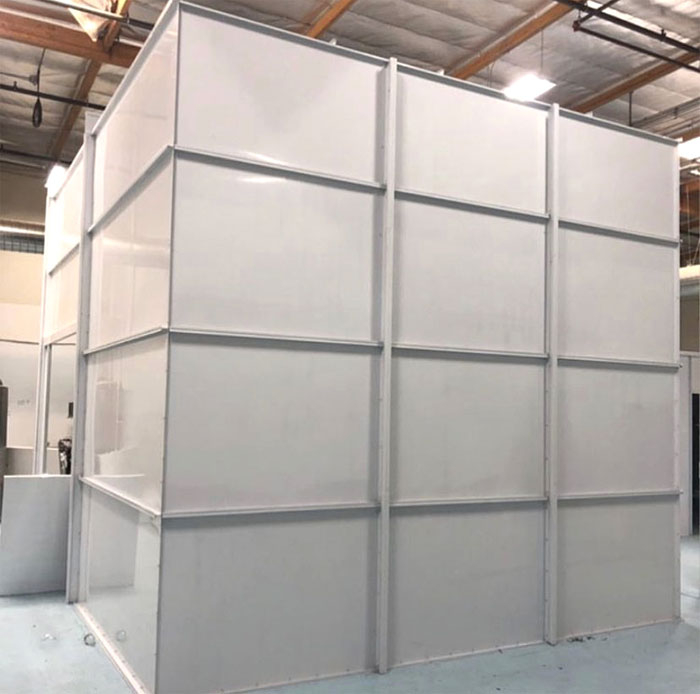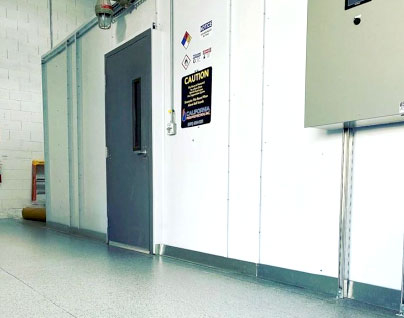 Increase your MAQ's

C1D1 Labs LLC knows the in's and out's of local, state and national fire codes. We design our modular hydrocarbon and ethanol booths to not only satisfy your local fire department, but we are experienced technicians who know what your extraction company needs.

One of the most restricting bottlenecks extraction companies face is Maximum Allowed Quantities (MAQs) for their flammable liquids and combustible gasses. One of many ways our company increases your MAQ for ethanol and hydrocarbon extraction is fire suppression. C1D1 Labs LLC works closely with licensed fire suppression contractors to provide solutions for our clients.

Many times we may suggest manifolding directly to your existing fire sprinklers in your building. This can be a much more cost effective solution rather than an automatic dry chemical system.

Fire Rated Extraction Booths
For the first time, C1D1 Labs will now be selling C1D1 / C1D2 Fire Rated Extraciton Booths. We get asked often if having fire rated walls on your extraction booth is necessary and the answer is usually no, unless your local municipality requires this rating. Your standard extraction booth, as long as it is built three feet from any other operation or wall, can be 18 gauge sheet metal.
However! Fire rated extraction booths may be your solution to increasing your solvent limits without expensive engineering, labor and materials. Control areas are built when the building area exceeds the maximum allowed quantities of solvent (MAQ). Your MAQs are defined by the building type and a couple characteristics such as fire suppression and solvent storage, for example. A control area is designed to multiply your maximum allowed solvents by separating a chosen area from the rest of the building with fire walls. This separation actually allows you to have multiple ares inside your building that reach the MAQ. A F-1 occupancy building (standard manufacturing building) can have (4) control areas on the first floor of the building, each with it's own separate maximum allowed quantities of solvent.Therefore, you could potentially have (4) areas with 480 gallons of ethanol, in a F1 occupancy building without having to build any additional fire walls. This is a huge advancement in the extraction booth tech and is patented by C1D1 Labs LLC!
C1D1 Labs LLC's 1 hour fire rated extraction booths are a dream for architects, engineers, and lab owners. Not only are they extremely easy to place into designs, they increase the potential of production of a facility, increasing the value of the building. By adding more control areas to your building, you allow more solvent inside your laboratory. Therefore allowing you to produce more. Best of all, they don't require an additional enclosure around the booth. All of our fire rated extraction booths are peer reviewed 1 hour fire rated. Saving you space in the facility, again maximizing potential, and allowing easy approval when submitting to your local municipality.
FREB10910
Interior Size - 10'Wx10'Lx9'H / Exterior Size - 10'3Wx10'3Lx9'8"H

FREB20910
Interior Size - 10'Wx20'Lx9'H / Exterior Size - 10'6Wx20'3Lx9'8"H

FREXB101220
Interior Size - 10'Wx20'Lx12'5"H / Exterior Size - 10'6Wx20'3Lx12'5"H

FREB111026
Interior Size - 10'9"Wx25'9"Lx10"H / Exterior Size - 11'5"Wx26'5Lx10'5"H

FREB151426
Interior Size - 15'Wx26'Lx14'H / Exterior Size - 16'Wx26'3"Lx14'8"H