APIEZON PFPE 501 High Temp Low Vapor Vacuum Lube Grease 100g
Click To Enlarge
Apiezon PFPE 501 vacuum grease is a chemically inert, high temperature and extreme pressure lubricant. With an upper operating temperature of 250°C and vapour pressure of 1.3 x 10-12 at 25°C, it is robust, versatile and can be used for sealing and lubricating under the most extreme operating conditions. This includes environments where aggressive chemicals and strong oxidising agents are regularly used.
As most Apiezon users are more familiar with hydrocarbon chemistry we'd like to provide some background on what PFPE is, and how its molecular structure can explain its physical properties.

Why Use Apiezon PFPE 501 Grease?
PFPE based

High temperature lubricant

Used in oxygen rich environments

Ultra high vacuum

Chemically inert

Extreme pressure

Wide temperature range
Benefits of Apiezon PFPE 501 Grease?
Extended equipment life

High temperature lubricant

Reduced equipment downtime

Lower service costs

Life-time lubrication

10 year shelf life

Guaranteed Apiezon quality

Expert technical support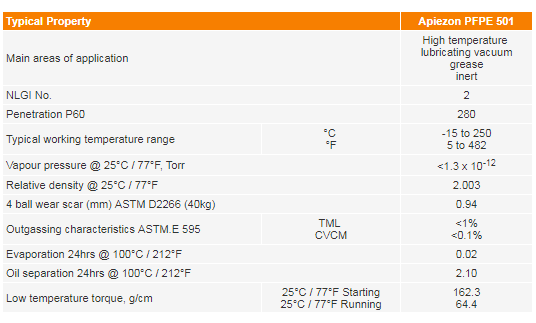 Attention! Vacuum grease should always be tested before the material is adopted for regular use. In case of eye contact, flush eyes with water.